Dr. Voldman conducts farewell concert at the Columbia Theatre
By Regina Pergola
On May 9, 2017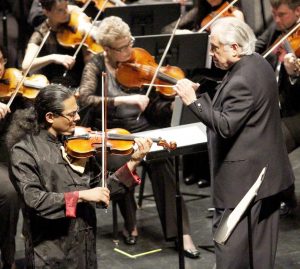 Retiring professor of violin Yakov Voldman, right, was honored at the Columbia Theatre for the Performing Arts on Tuesday, May 2. Voldman led several performances during the "Farewell Concert" which included pieces from Wagner, Bach, Mozart and Tchaikovsky.
Regina Pergola/The Lion's Roar
Dr. Yakov Voldman had his farewell concert after working for the university after 24 years. As an immigrant from Moldova, with a masters in violin performance from Kishinev State Conservatory and a Ph.D. from Moscow State Conservatory, Voldman became a faculty member in 1992 as violin instructor and director of SLU Chamber Orchestra.
President John L. Crain attended the event that was held this past week at the Columbia Theatre for the Performing Arts on Tuesday, May 2 from 7-9 p.m.
"It's a wonderful evening, but so very typical of Dr. Voldman and the extraordinary music he has helped create at our university," said Crain. "We'll miss him greatly but wish him the very best."
As the executive director of the Columbia Theatre for Performing Arts, Roy Blackwood has worked with Voldman and his wife during his 24-year career at the university. Blackwood credits Voldman with her expertise in music and for being a strong pillar in the community that is all the less for having him leave.
"I hate that he's leaving," said Blackwood. "It's going to be a tragedy for the musical community and for the campus. He's been a great college professor and a great departmental assistance. He has added so much to the cultural fabric of this community that will never be replaced. Someone may come along but Dr. Voldman will never be forgotten. Nor will Raisa be forgotten."
The chamber orchestra that Voldman directed and conducted throughout his farewell concert was built from scratch. He had taken the previous orchestra, made up of the brass players who were required to take strings as part of their education, and developed a new orchestra that included foreign exchange students for whom Voldman had personally scouted.
"As far as the program tonight, he was one of the high points of the Columbia Theatre," said Blackwood. "Really, a wonderful selection was played absolutely beautifully. How can we have a better selection of musicians than the ones we had tonight that he trained? They all played their hearts out."
Voldman and Blackwood have worked together through their departments, providing an array of cultural experiences, in which the community could partake.
"Music and art have been closely associated," said Blackwood. "When I was the Chair of the Division of Arts department, they asked me to be chair of both departments. That's where I met Dr. Voldman. I was also on the committee that promoted him to full professor and that's where I got to know him. Of course, I was going to his concerts. I have always been a music lover, even though I come out of visual arts, I have always been a music lover."
April Sutton, a sophomore music performance major had worked with Voldman as her mentor and director for the past two years before his farewell concert that she played in.
"I feel included," said Sutton. "So, that's great. I think this really cool to be a part of something with Dr. Voldman. It's going to be interesting to see what's going to happen next year. At least I will be able to tell everyone 'Oh, I got to perform when Dr. Voldman was here.'"